About us
Harmony Inn brings your Chinese themed meal to a whole new level. We are the authority when it comes to authentic Chinese Cuisines. We are located at 13 Joyce St, Pendle Hill NSW. Enjoy our delicious and sumptuous menus perfect for any family gatherings and occasions. Choose among our starters like Prawn Cocktail, Spring Rolls, Dim Sims different kind of fritters and many more. We also serve different meat and seafood courses like Sichuan Chili Chicken, Roast Duck, Sate Prawns, Fillet Steak Mongolian and a lot more. To complete your ultimate Chinese experience, we also serve noodles, omelets, curries and rice. Take advantage of our pickup and delivery services by clicking the Order Online button right now.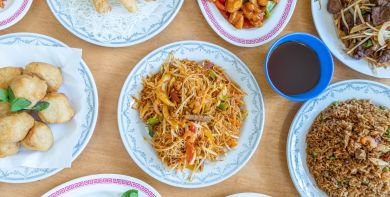 Reviews
Sabrina
"I love this restaurant's food! I always get their food every week ??"
23/02/2020
Sabrina
"Great food and friendly service, I always buy from them."
14/02/2020
Louise
"Amazing food every time"
13/02/2020
Patricia
"Everything was very nice, i would recommend to anyone. Thank you"
28/01/2020